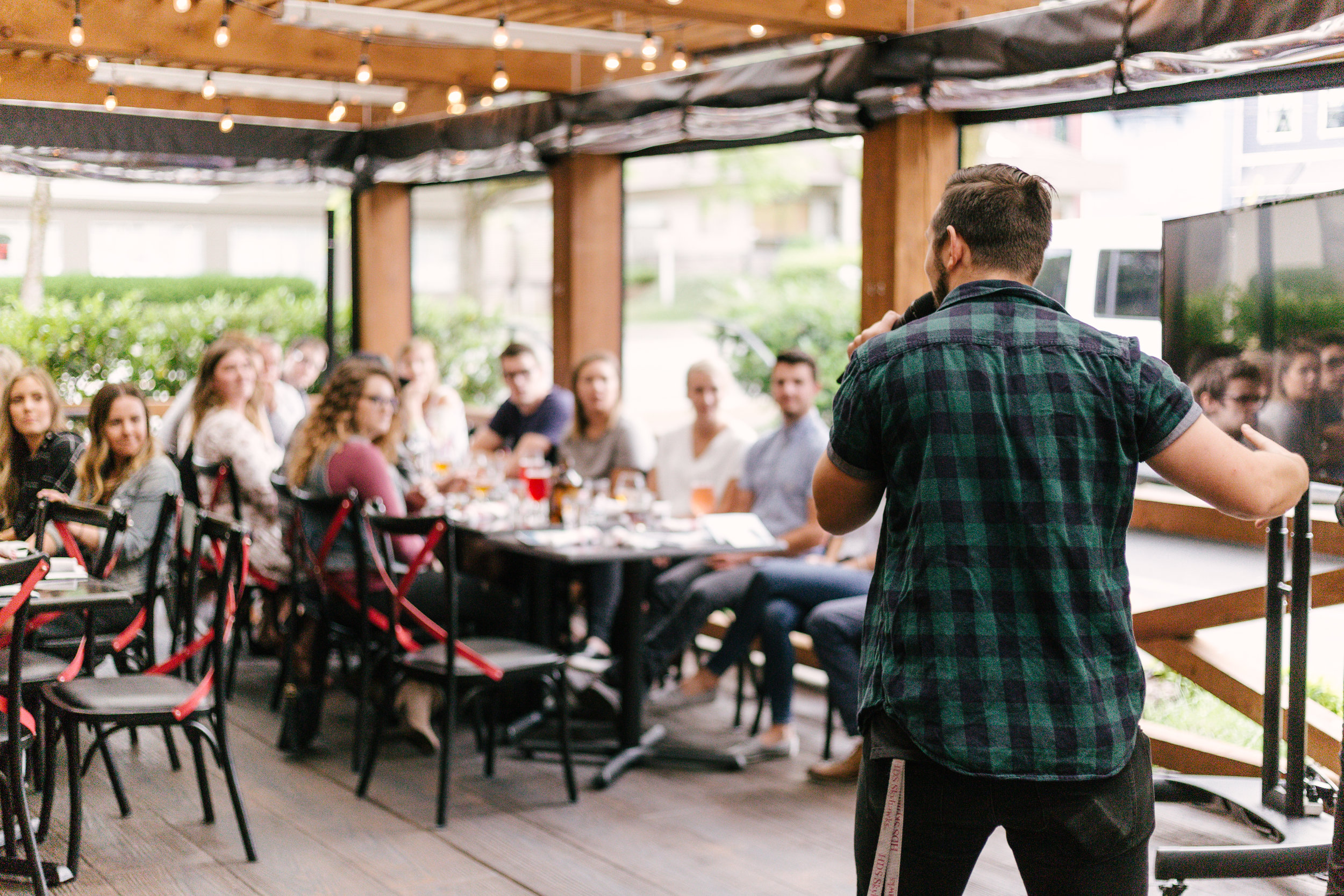 We know you probably have a lot of questions when visiting a new church, and we think the answers are best found in meeting face-to-face with people who have been at Grace Monroe for a while and want to help. Below is an outline of how to get connected! We look forward to meeting you and hope you feel welcomed and encouraged when you come to Grace Monroe for the first time! If you have any questions, please email Matt Jordan (matt@gfc.tv).
Your First Visit
We want to meet you! The best first step is to come to the Welcome Center on the left side of the the foyer (beside the banquet table) just before or after worship gatherings (Sundays at 9am and 10:45am). There, we will have volunteers waiting to learn a little more about you, give you a gift as a thanks for coming, and answer any questions you might have about Grace Monroe.
Encounter Grace | Find Out More About Us
Whether you've been coming to Grace Monroe for just a few weeks or several years, we highly recommend visiting Encounter Grace. Several of our key Grace "veterans" and staff will meet with you to share more about our church's heart, hear your story, and give helpful information about opportunities to serve and connect at Grace. Encounter Grace meets the first Sunday of the month at 10:45am in the Student Space (under the overhang). Brunch is served. Let us know your coming by clicking here to RSVP.
+ What should I expect at Grace Monroe on Sunday?
First things first: there will be coffee. There will also be lots of friendly people dressed comfortably and casually. And there will be fun, meaningful settings for your kids. Beyond that, we try to keep things fairly simple. The gathering will focus on worship and the Word. There will be music, Scripture reading, a teaching, and opportunity to respond to what God is doing in your life and heart. Every week, communion elements are available in the auditorium for those who wish to partake. At the end of each gathering, Prayer Team volunteers are available in the back of the auditorium to pray with you regarding any area of your life, family, or community that needs God's healing, provision, wisdom, or breakthrough. Altogether, the gatherings last around 80 minutes.
+ What about my kids?
When you first walk in the main foyer you'll see a large lit "Kidz" sign over the doors to the right. Go through those doors and you will be greeted by a friendly GraceKidz volunteer who will help you check-in for the first time and answer any questions you (or your kids) might have. We'll then show you which room each age group meets in.
Babies through Pre-K will go on in to their rooms for a fun and engaging morning of music, play, crafts, and a Bible lesson.
Kindergarten - 5th grade will go with their families into the main auditorium. We love having our older children worship with us during the beginning of the main gathering. After the music they will be prayed over and then led out by one of our GraceKidz volunteers to go back to the GraceKidz area, where they will learn alongside their peers with leaders who have spent the week praying and preparing to share the truth of Scripture in an age-appropriate way.
CLICK HERE for more information about GraceKidz.
Middle and High School Students (6-12th Grade) meet Sundays at 9am in the Student Space (the second warehouse under the overhang, next to CrossFit).
CLICK HERE for more info about LUG (middle school) and True North (high school).
+ How do I get to Grace Monroe?
Grace Monroe is located in the Monroe Cotton Mills at 601 S. Madison Avenue Monroe, GA (Map Link). The church is located on the north side of the property in the cotton warehouses under the overhang.
+ Where should I park?
There is parking located on both sides of S. Madison Ave. in front of the Cotton Mills. In addition, there is a gravel lot located behind the Mills on Lawrence Street. Simply drive under the overhang and the gravel lot will be located in front of you to the right.
+ How can I let you know I'm coming to visit?
We would love to have you as our guest! We can reserve you a convenient space in the parking lot, meet you personally, and save you a seat in the main auditorium. We can also help you and your family find your way around the church. Simply email our Connections Pastor, Matt Jordan, to let us know when you would like to visit, and we will take care of the rest!
+ How do I become a member of Grace Monroe?
At Grace Monroe, we believe the church is more than simply a place or a gathering time, it's a family on mission together. Our desire is to equip and empower you to discover and live out your God-given identity and destiny in a way that revitalizes the Neighborhoods, Nations, and Next Generation. If you are ready to partner with Grace Monroe as a member, we invite you to attend the next "Joining the Family" brunch. For more information, email Matt Jordan (mjordan@gfc.tv) or click here to RSVP online.